Jennifer Swantkowski earned her Master's in Social Work from the University of Houston in 1996. The first eight years of her career were focused on grief and loss as she served as a Hospice Social Worker working with both children and adults diagnosed with a terminal illness. She completed a post-graduate Fellowship in End of Life Care from Smith College in Northampton, MA in 2003 and then returned a year later to begin work towards her PhD in Clinical Social Work from Smith College.
Upon completion of her doctorate, Jennifer worked as a family therapist at the Austen Riggs Center in Stockbridge, MA and taught at Boston College. She then relocated back to Houston to be closer to family and began to work as an individual and family therapist at The Menninger Clinic in Houston, Texas. While at Menninger, she developed various courses and taught the graduate Fellows that rotated through the Clinic annually. She also served as adjunct faculty at the University of Houston Graduate School of Social Work. Jennifer also developed a curriculum for clinicians and families to better understand Borderline Personality Disorder and gave talks at conferences, colleges and hospitals across the country.
For the last ten years Jennifer has been in private practice working with adults providing individual and couples counseling. In her practice she focused mainly on two demographics: professionals dealing with issues such as anxiety, addiction and relational struggles; and young adults who were failing to launch in their lives. Unfortunately, due to a neuro-toxic reaction to an antibiotic and subsequent struggle to come off the benzodiazepine she was prescribed for that injury, Jennifer made the difficult decision to step away from her clinical practice in 2020.
During time away from her practice, Jennifer has focused on healing as well as heavily researching the realm of medication injury and benzodiazepine withdrawal. She has written a book called The Waiting Room: My Journey of Recovery from Medication Injury and Benzodiazepine Withdrawal that is due out in mid-summer of 2022. She currently spends time working on her second book and creating YouTube videos discussing various issues related to benzodiazepine withdrawal as well as a separate series called Therapy from the Sidelines. She is passionate about being a part of advocacy and awareness efforts and is honored to be a part of the Benzodiazepine Information Coalition.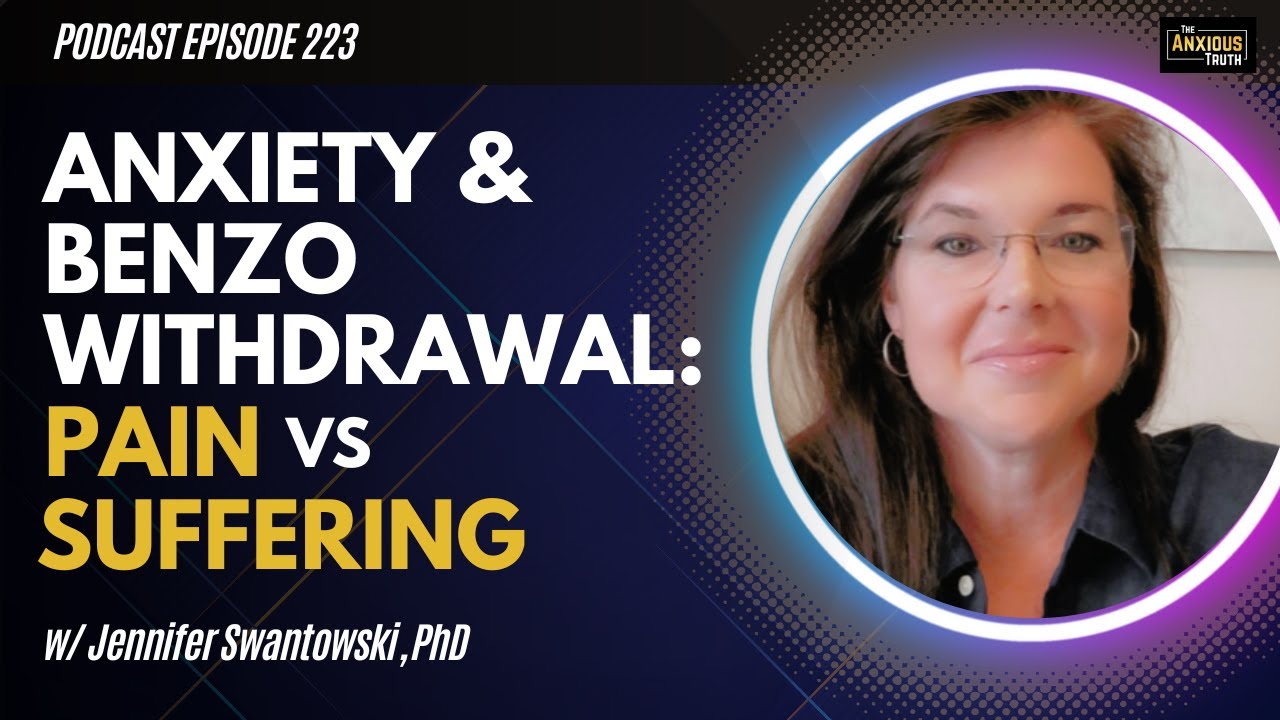 Anxiety And Benzo Withdrawal : Pain vs Suffering (Podcast Episode 223)
This week I'm joined by therapist and author Jennifer Swantowski as she shares her ongoing experience with benzodiazepine withdrawal and anxiety. Jennifer i…
www.youtube.com
Episode 39: Jennifer Swantkowski, Ph.D. – Victim, Advocate, Author
Jennifer Swantkowski has her masters in social work from the University of Houston, a post-graduate fellowship in End of Life Care, and a PhD in Clinical Soc…
www.youtube.com